Welding - Method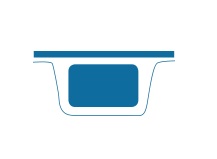 BMB packaging machines offer solutions that guarantee perfect container welding and total protection against mechanical and external stress. They are able to weld trays made of different materials, such as plastic, aluminum, cardboard and foam. Solder-only packaging provides packaging that reliably protects the product from physical and environmental stress, moisture and UV light. Soldering alone is a type of packaging particularly suitable for non-food products and industrial, medical and pharmaceutical products or for food that does not require long shelf life. All BMB packaging machines are equipped to pack in welding only and obtain impeccable packages in compliance with the best quality standards.
ATM Packaging Technology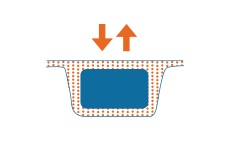 BMB supports the customer in selecting the most suitable solution. Our proposal consists in innovative and customized solutions in every phase of the packaging in Protective Atmosphere to achieve maximum results. The quality of the packaging process in Protective Atmosphere (ATM) plays a fundamental role in guaranteeing the prolongation of shelf life in a natural way.The principle of this technology is to replace the air in the package with a gas mixture. The shelf life of the product is extended up to four, five times or more compared to the shelf life.One of the advantages of packaging in a Protective Atmosphere is that it preserves and increases safety and protection.This type of packaging can be obtained using all thermosealers, thermoforming packaging machines, and vacuum chamber packers, BMB.
SKIN - Method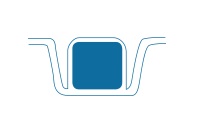 Imagine that you have just prepared a sauce or a sauce for the first dishes to serve in your restaurant: every chef knows that you can not prepare fresh condiments every day and, for this, it is essential to find the best way to preserve the preparations and avoid losing flavor. To do this, it is essential to use tray heatsealers that can perfectly isolate the preparations and maintain the taste always unchanged. Obviously, it's not just about sauces and condiments: the tray heatsealers are designed to perfectly close trays of different sizes and with different contents. It ranges from the use in small and large restaurants to the use in the centers of production of fresh cheese, and then move on to companies that are involved in the production of preserves of various kinds: similar machinery is a must have for every sector and proves to be a truly indispensable investment.
TSS125
TSS125 is part of a wide range of thermosealing machines for trays, ideal to meet the needs of small commercial activities, professional catering, HO.RE.CA. businesses and food and agriculture processing companies.
Features:
Flexibility (sealing only, vacuum only, MAP sealing)
Vacuum and gas percentage checking sensor
Positive or negative gas percentage
Wide sealing area sizes
Excellent aesthetical tray finishing
Medium-high productions
Vacuum pump integrated
10 customized digital sealing programmes
Ideal solutions for Gastronomic laboratories, pasta factories, butcher's laboratories, caterings, cooking centres, salami factories and artisan laboratories with MAP conservation