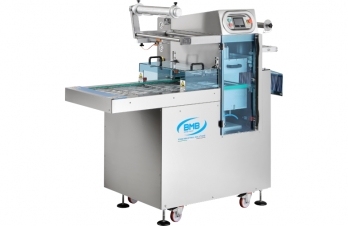 Vacuum-packing - Method
Vacuum packaging prolongs the shelf life of the products. The maintenance of the organic product thus has a prolonged life span. With the vacuum technique, the oxidation process is inexorably slowed down. This prevents the development of microbacteria and preserves the product's freshness for longer. Thanks to the vacuum, the product is also fixed to the packaging in order to create additional protection. All BMB machine lines can be used to vacuum-pack any type of material and consistency. A protected and perfectly preserved end product is guaranteed.
Modes of use
SKIN - Method
Imagine that you have just prepared a sauce or a sauce for the first dishes to serve in your restaurant: every chef knows that you can not prepare fresh condiments every day and, for this, it is essential to find the best way to preserve the preparations and avoid losing flavor. To do this, it is essential to use tray heatsealers that can perfectly isolate the preparations and maintain the taste always unchanged. Obviously, it's not just about sauces and condiments: the tray heatsealers are designed to perfectly close trays of different sizes and with different contents. It ranges from the use in small and large restaurants to the use in the centers of production of fresh cheese, and then move on to companies that are involved in the production of preserves of various kinds: similar machinery is a must have for every sector and proves to be a truly indispensable investment.
Modes of use
TSC 70
Equipped with vacuum pump placed inside the machine, the TSC 70 skin thermosealing machines is also equipped with the most modern design and construction technologies to guarantee the operator maximum reliability and ease of use.
The management of the various functions is entrusted to a PLC while a practical and intuitive touch screen allows the introduction of parameters and the display of messages and alarms.
" class="img-responsive">